My next novel, Cherry Blossoms, has a male narrator. I didn't plan to write a story with a man's voice; it just came to me that way. This story, like most of my stories, started with one line: "I have eight months to live." And the character saying that line in my head just happened to be a guy.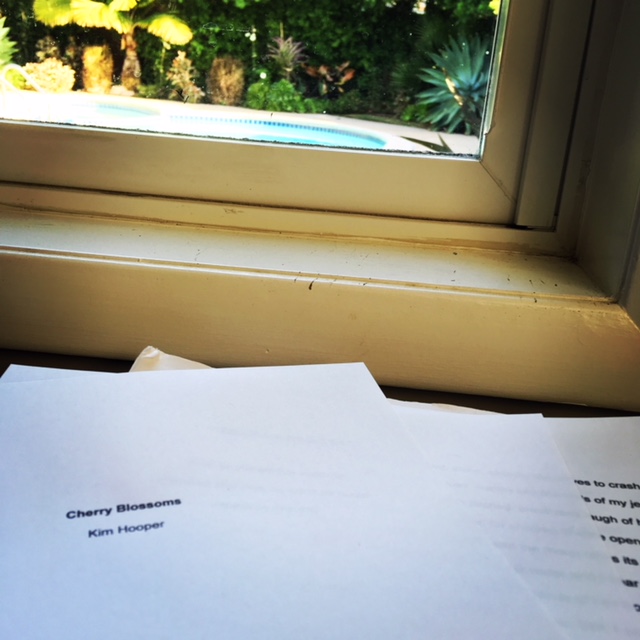 I started this book back in 2009, then set it aside when I got the idea for People Who Knew Me. I never forgot about Cherry Blossoms though. It was always my intention to finish it. But when People Who Knew Me came out, I found myself marketed as a "women's fiction" writer. This was very much a surprise to me.
When people used to ask me what kind of books I wrote, I said, "General fiction, slice-of-life stories." I've never thought of myself as writing "women's fiction." Furthermore, I don't even know what that means. There is no counterpart, no "men's fiction." To me, there is something very problematic about this paradigm. The implication is that a book written by a woman, with a female main character, would appeal only to a woman. In fact, I've had many men contact me to say they loved People Who Knew Me. One even said he thought the cover did me a disservice: "There's a woman on the cover, which makes it seem like this book is only for women, when it's really a story that would appeal to anyone."
What's interesting is that plenty of male authors have female main characters: The Marriage Plot by Jeffrey Eugenides, Little Children by Tom Perrotta, Freedom by Jonathan Franzen, She's Come Undone by Wally Lamb, to name a few favorites. Of course, these books are not labeled as "women's fiction." They are "general fiction," targeting everyone.
What's worse, many women who write male characters are told they shouldn't use their real name, as if they won't be taken seriously as a woman writing a male voice. JK Rowling's real first name is Joanne. Her publisher encouraged her to use initials instead of her real name for the Harry Potter books. Also, she writes a series of crime novels with a male main character under the pen name Robert Galbraith. I highly doubt a male novelist was ever instructed to use a female pen name when writing a story with a female main character.
When discussing Book #2, I was told a book with a male narrator would "never fly." I tried to force some other stories that would fit the "women's fiction" category, but it just wasn't authentic. In the end, I wanted to finish Cherry Blossoms. So I did. And then I found a publisher who loved the story as much as I do and didn't place any importance on the narrator's gender.
There are some books written by women that feature a male main character. Gillian Flynn's Gone Girl is probably the most well-known. Donna Tartt (The Secret History, The Goldfinch) writes male main characters very well. What books have you read that feature main characters that aren't the same gender as the author? Did you take note of this, or did it affect your enjoyment of the story at all?