I worry that people think dust has settled after the election. It shouldn't settle. There is so much that is (and should be) very unsettled. Regardless of your political opinions, the election was a 9.0 on the Richter Scale. It shook us. We realized we are not as united as we thought. People we assumed were on "our side" are staring at us from across the divide with confused looks on their faces.
Since November 8, I've noticed a shift in myself. I've been trying hard to silence my ego and really hear what others think and feel. Even if I don't agree, I'm aware I need to understand the other side. I'm trying to think before I speak. I'm trying to check myself. As I said after the election, I don't know everything.
Just the other day, I was doing an author interview, answering questions about how I feel toward the main character (Emily) in PEOPLE WHO KNEW ME.  There is some controversy about Emily and her decision to fake her death on 9/11 and flee to California. The controversy has taken me by surprise. When I wrote the character, I wasn't caught up in the "right" or "wrong" of her actions as much as I was caught up in trying to portray human complexity. I don't necessarily agree with all of her choices, but that doesn't bother me. She makes decisions based on her upbringing, her current circumstances, her youth, her shock in the face of 9/11. She has her reasons.
Lisa Cron writes about this in her essay for Writer Unboxed:
"…Your job as a novelist – first and foremost — is to understand why your characters believe they are right, especially when they're not. They always have a reason – and that reason isn't because they're a jerk, or stupid, or simply mean. That reason is something their life taught them, and to them it feels real and good and true. But – and this is the key thing — it doesn't mean it is true."
All this got me thinking about the value of stories. Stories help us understand gray areas of people. Stories encourage compassion where we usually have judgment. Stories allow us to put ourselves in others' (fictional) shoes, imagine how others feel, see the world through others' eyes. Stories offer a safe space for reflection. If a character unnerves me, it's usually because of something in my own life. There's an opportunity for insight with every emotion a story evokes.
As Cron says:
"Stories press the pause button, allowing us to slip out of our own lives to experience the protagonist's inner struggle. Stories thus tacitly change our perception of what's right and wrong. What is sacred and what is profane. What is fair and what is not."
After the election, I started questioning myself as a writer. Should I be putting my energy toward other things instead of fiction? Obviously, there is so much work out there to be done. Does fiction really matter?
But, it does matter. Fiction helps with empathy, which is what we all need more than anything right now. By cultivating empathy for characters, we, as Cron says, "give dignity and weight to their feelings, even if [we] disagree with the conclusion they've drawn." Characters aren't real people, but I wouldn't call them fake people. They're practice people. We can take what we learn from our interactions with them straight into the real world.
I think it's important to read a variety of books (participating in Book Riot's Read Harder Challenge is a good way to do this). It's important to disagree with characters. It's important to ask ourselves why we disagree. It's important to open a dialogue about those disagreements. It's important to keep an open mind and look beyond the "what" to the "why."
In her essay, Cron mentions this Proust quote, which is one of my favorites: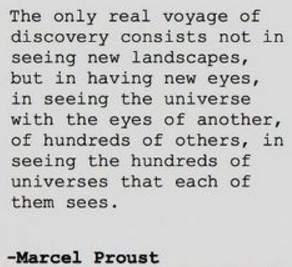 There are so many books that have helped me see new universes. Off the top of my head, here are some favorites: The Light Between Oceans (ML Stedman), Middlesex (Jeffrey Eugenides), Love in the Time of Cholera (Garbriel Garcia Marquez), The Lonely Polygamist (Brady Udall), Song of Solomon (Toni Morrison), Catch 22 (Joseph Heller), Slaughterhouse 5 (Kurt Vonnegut), The Bell Jar (Sylvia Plath), The Absolutely True Diary of a Part-time Indian (Sherman Alexie), The Great Gatsby (F. Scott Fitzgerald), I Know Why the Caged Bird Sings (Maya Angelous), Angela's Ashes (Frank McCourt), The Awakening (Kate Chopin), Dept. of Speculation (Jenny Offill), Euphoria (Lily King), The Goldfinch (Donna Tartt), The Secret History (Donna Tartt), The History of Love (Nicole Krauss), The Invisible Man (Ralph Ellison), The Namesake (Jhumpa Lahiri), Little Children (Tom Perrotta), What is the What (Dave Eggers).
But even the not-so-outstanding books I've read have shown me new ways of thinking. That's the beauty of reading. . . and the necessity for writing.

What are your thoughts? What is the larger-scale purpose of fiction, or art in general?