When I got my book deal at the end of 2014, a writer friend told me, "Your pub day will be here before you know it." I did not believe her. At that time, 2016 seemed SO FAR AWAY. And now, here we are, a month out from my book launch. It's kind of surreal, as most dreams-coming-true experiences are.
Since my last countdown post, I received another great trade review, this one from Library Journal:
Emily Morris married her college sweetheart, Drew. Like many young couples, they planned to live on love while they both went to graduate school. But life does not always turn out as planned. As they struggle with their professional lives and with Drew's sick mother, their relationship becomes strained. Connie Prynne is a single mother living in California who has just received a devastating diagnosis of inflammatory breast cancer. With death as a probable outcome, Connie realizes she needs to stop hiding. For Connie is Emily. A pregnant Emily had planned to leave Drew, but then her lover died in the September 11 attacks. Since Emily worked in the World Trade Center, everyone thought she had died, too, and she lets them believe that lie. VERDICT While ­Emily's choices may seem selfish to some, the author does a great job of making them believable in this debut. ­Emily is a flawed, relatable character. The structure of the book—alternating between Emily in the past and Connie in the present—helps readers see how the protagonist has grown. Warmly recommended for women's fiction fans.—Lynnanne Pearson, Skokie P.L., IL, Library Journal
(Thanks, Library Journal and Lynnanne Pearson!)
As a reminder, I have a couple of launch events lined up if you're in the Southern California area: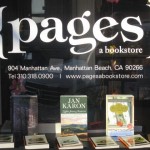 Thursday, May 26, 7pm
Pages, a Bookstore
904 Manhattan Avenue
Manhattan Beach, CA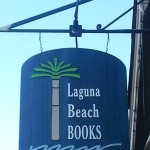 Sunday, June 5, 4pm
Laguna Beach Books
1200 South Coast Highway
Laguna Beach, CA
I also booked a radio show with Laguna Talks (KX 93.5). I'll be LIVE on air (my husband is limiting me to one beer with dinner beforehand) on Thursday, June 2nd at 8pm.
What else?
I'm working away on finishing a new novel. This will be the second novel I've written since I finished People Who Knew Me. I'm hoping one of them will be The Next Book. Meanwhile, my film agent is starting to send out People Who Knew Me, which is exciting. I'm well aware it's very difficult to get movie deals these days, especially for this type of fiction, so we will see. I wrote the best book I could. Whatever happens from this point forward is gravy.
Thanks to everyone who has been supportive on this journey. The big day is almost here!