I debated whether or not to admit this. I know I'm welcoming questions like, "How's that novel going?" and "Are you finished yet?" and "When do I get to read it?" But, then again, maybe it's good for me to have a little pressure.
(Who else still loves this Family Guy clip?)
I won't talk about the plot or the characters. I feel the need to protect that. If I blab too much about a story, I start to lose interest in actually writing it. My goal with this novel is to get back to what I used to feel when I wrote stories as a kid–pure joy. Every page felt like a discovery. Even though the words came from my own head, they were still a surprise. That's the joy I'm talking about. Since I started this new novel, I've had trouble falling asleep and I've been waking up in the middle of the night more often. I have all kinds of ideas and I can't wait to see how they unfold, like a kid on Christmas Eve anticipating the morning.  I think about possible plot lines during my work day and find myself smiling more. That's how it should be. I'm not going to worry about finding an agent or any of that now. I just want to enjoy the writing. I haven't done that in years.
I've written a few novels before, usually in concentrated spurts. Life is very busy and full at the moment, so I know this novel will take much longer than the others. And I'm determined to be OK with that. I want to write a little every day, even if it's just a note on a post-it.
Every writer has heard the advice to "just write." I've rolled my eyes at that many-a-time. It's sort of true though. I can hem and haw all day about how I'm just not inspired, I'm too preoccupied, etc… but, when it comes down to it, once I sit and write just one line, I seem to find the inspiration (and the time). It really is a matter of starting.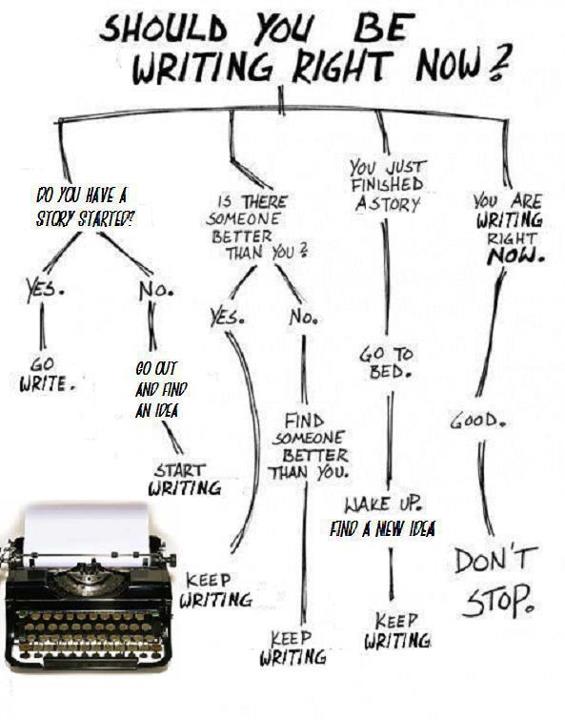 That said, here's my plan:
Write every day for 100 days. Just to see how it goes. Like I said, some days will involve just scribbling notes on a post-it.
I'll let you know how it went on Day 101, May 2!